Lots of Ablegrid® AG6000 WIFI 12MP 2.0" LCD HD 1080P 170 Degree Wide Angle Sport Action Camera Waterproof Novatek 96655
Description
This camera is great for catching all your action moments on camera. It has a fantastic lens to capture all your great moments in clarity, whether you want still photos or full motion HD video. It includes a ton of mounts and sticky applicators so you can attach it to anything you wish. Make this great purchase as a gift or to bring along on your next vacation! This camera can also be used for car Dash Camera(Auto Start / Stop Recording when charging/not charging), Home Security Use, Action shots, underwater, skydiving, etc.
Features:
12Mega Pixels CMOS-Sensor
WIFI
2.0" high resolution LTPS LCD, the screen is available for video recording, photo shooting and watching simutaneously.
30m waterproof.
1920x1080P, HD image resolution
Functions: HDR, recording, face recognition
Video: 1920*1080/1280*720/848*480/640*480
Photo sharpness: 12M (4032*3024) / 10M(3648*2736) / 8M(3264*2448) / 5M(2592*1944) / 3M(2048*1536) / 2MHD(1920*1080) / VGA(640*480) / 1.3M(1280*960)
Light source frequency: 50Hz/60Hz
170 HD wide-angle lens
Slot for Micro SD card up to 32 GB
USB 2.0 , HDMI
Battery Detachable 900mAH
Service time: 70mins
Color: BLACK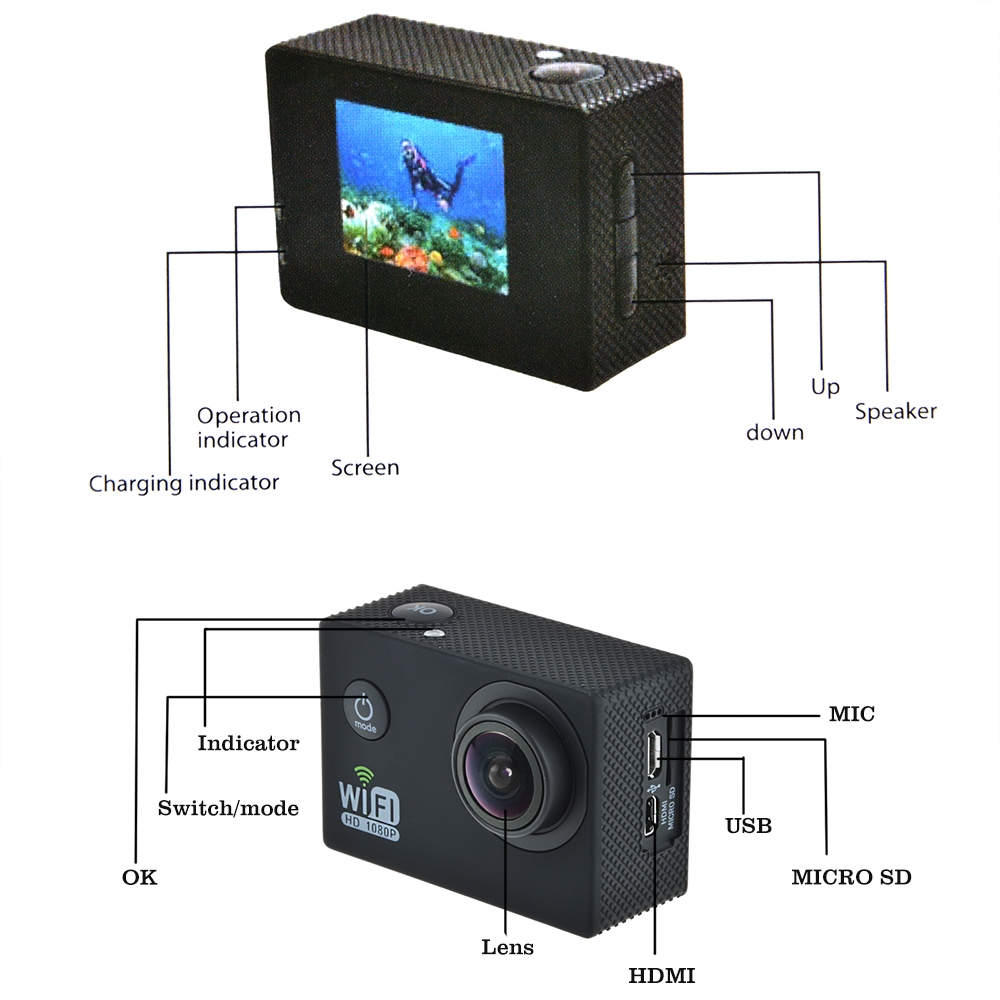 Package Includes:
1 x Camera
1 x Waterproof case
1 x Cleaning cloth
1 x USB cable
1 Set x Ribbons
1 Set x Bandage
1 x Base
1 x J type base
1 x Back splint
2 x Helmet base
2 x Adapter
1 x Bicycle clamp
3 x Transfer arms
2 x 3M adhesive tape
1 x English user manual
---
30m waterproof.
1920x1080P, HD image resolution
Functions: HDR, recording, face recognition
Video: 1920*1080/1280*720/848*480/640*480
Photo sharpness: 12M (4032*3024) / 10M(3648*2736) / 8M(3264*2448) / 5M(2592*1944) / 3M(2048*1536) / 2MHD(1920*1080) / VGA(640*480) / 1.3M(1280*960)
Light source frequency: 50Hz/60Hz
170 HD wide-angle lens
Slot for Micro SD card up to 32 GB
USB 2.0 , HDMI
Battery Detachable 900mAH
Service time: 70mins
Color: BLACK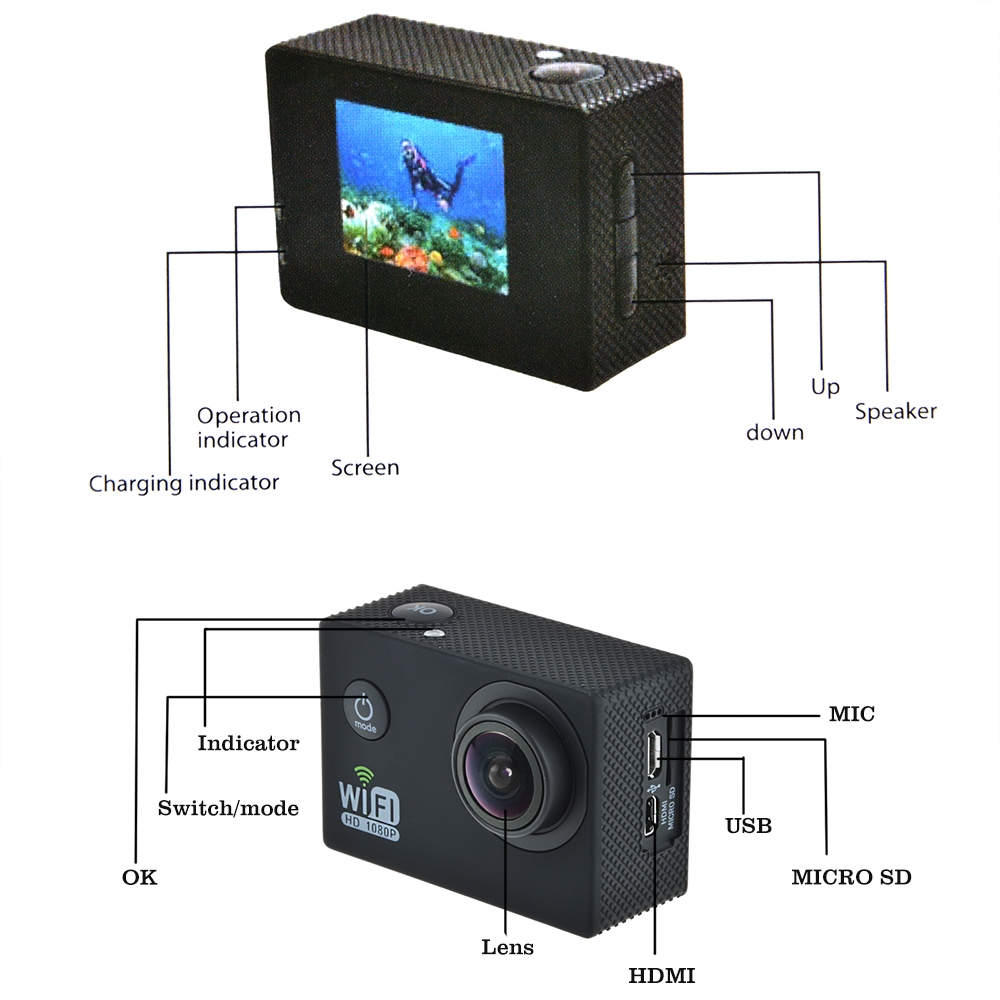 Package Includes:
1 x Camera
1 x Waterproof case
1 x Cleaning cloth
1 x USB cable
1 Set x Ribbons
1 Set x Bandage
1 x Base
1 x J type base
1 x Back splint
2 x Helmet base
2 x Adapter
1 x Bicycle clamp
3 x Transfer arms
2 x 3M adhesive tape
1 x English user manual